The Four Kinds of Programmers: How And Why They Excel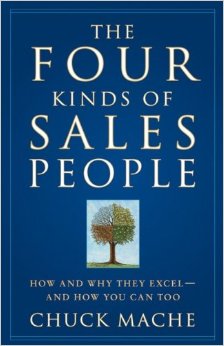 I decided to read a book not related to programming at all, just to help get some outside perspective. I decided to read about sales. After a little bit of Googling, I came across The Four Kinds of Salespeople: How And Why They Excel - And How You Can Too by Chuck Mache. The book talks about the four (and only four) types of salespeople: The Performer, The Professional, The Caregiver, and The Searcher. They each have their own strengths, and Mache suggests a way to get better. This list was made for salespeople, but I believe this applies to programmers as well. I will briefly describe them, as it relates to programmers.
10x programmer
Emotional
Very competitive
Passionate
Large ego
Natural-born programmer
Top programmer
Challenge: Have emotional highs and lows
How to get better: Help other people, with no agenda to help yourself.
Intelligent
Analytical
Almost performer-level
Reserved
Challenge: Mostly stay conservative, don't take many risks.
How to get better: Challenge yourself more. Do difficult things that you think you should do but are afraid to.
Resistent to change
Comfortable
Mediocre results
Generally a previous Performer/Professional
Challenge: It's hard to find motivation to do things out of your comfort zone.
How to get better: Decide who you want to be, and go for it. The Searcher
Thinks programming is easy
Won't do any hard things, or things they don't want to do
Doesn't want to make changes to be a better programmer
Typically the result of a bad hire.
Is afraid while working
Challenge: It doesn't feel right to be a programmer
How to get better: Be honest with yourself, and decide if this is really what you want to do.
Every programmer should fit into 1 of those 4 groups. Decide which one you fit in, and make the changes necessary to better yourself. I highly recommend reading the book. It's a quick read, and it goes into much more detail about each type, and includes very important context.